GPRS Module with inegtrated GPS module and RS232 plus SIM card holder
GPRS module /GPS module characteristics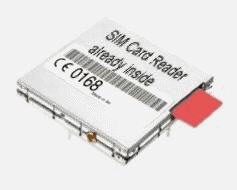 Full Type Approved Quad Band Embedded GPRS Module (GSM 900 / 1800 / 1900) with R232 interface on CMOS level and AT command set

This GPRS/GPS wireless data module is the ready solution for remote wireless applications, machine to machine or user to machine and remote data communications in all vertical market applications. Its ingrated GPS module save space on PCB.


This GPRS module / GPS module as a glance
Small, lightweight and easy to integrate
Low power consumption
Full ETSI / R&TTE type approval
Internal SIM card reader and option on external SIM card reader
Full RS232 on CMOS level with flow control (RX, TX, CTS, RTS, CTS, DTR, DSR, DCD, RI)
Easy GPRS relieves you from writing the TCP/IP code and making your Internet access as simple as dialling a phone number.
Always connected with higher data transmission speed
High performance on low price
Integrated SIM card reader designed for industrial applications in the field of telemetry and telematics
In vehicle applications, fleet management, remote vending, remote monitoring, remote control, security systems, teleservice, ...
Pin to Pin upgrade policy to save your developing investments High level technical support to help you in the integration of your solution
Exhaustive product documentation
Evaluation kit and reference design
Quick technical assistance by dedicated e-mail services
Deep technical assistance by dedicated engineering support
RD support and certification lab for all your needs
Product Features
E-GSM 900/1800 / 1900 MHz and GPRS class B class 8 compliant with GSM Phase 2 / 2+
Output Power Class 4 (2W) at GSM 850 / 900 MHz and Class 1 (1W) at GSM 1800 / 1900 MHz
Control via AT commands (ITU, GSM, GPRS and manufacturer supplementary)
Integrated GPS module (Sirf 3 Low Power)
Supply Voltage range: 3.4 V - 4.2 V, nominal: 3.8 V
Power consumption: Idle mode: <3.5 mA, speech mode: 250 mA (average)
Dimensions (mm): 6 x 43.9 x 43.9 and weight (g): 20 (including shielding)
Temperature range (operating): -30 to +80 degree Celsius
Interfaces
Power supply nominal 3,8 V
7 general purposes I/O ports and serial bi-directional bus on CMOS 2,8 V
Internal / External SIM 3 / 5V
Analog audio for microphone, speaker and hands free set
RS232 on CMOS 2,8 V (One RS232 (2,8V) with flow control (RX, TX, CTS, RTS, CTS, DTR, DSR, DCD, RI), baudrate 300 - 115.200 bps, autobauding 1200 - 57.600 bps
Two 50 Ohm antenna connector MMCX
Audio
Telephony and emergency calls (Half Rate (HR), Full Rate (FR), Enhanced Full Rate (EFR))
Echo cancellation and noise reduction
DTMF
Handset operations and basic hands-free operation
SMS
SMS Mobile Originated (MO), Mobile Terminated (MT) and Cell Broadcast (CB - DRX)
Data and Fax
Circuit Switched Data (CSD) up to 14.4 kbps
Packed Data (GPRS class B, class 10) up to 85.6 kbps
Coding schemes: CS1 to CS4
Fax Group 3
GSM Supplementary Services
Call Barring and Call Forwarding
Advice of Charge
Call Waiting and Call Hold
Calling Line Identification Presentation (CLIP)
Calling Line Identification Restriction (CLIR)
Unstructured SS Mobile Originated Data (USSD)
Closed User Group
Other Features
SIM Phonebook management
Fixed Dialing Number (FDN)
SIM Toolkit class 2
Real time clock
Alarm management